So fascinating! The colors are spellbinding.
MJ posted a link to this show on her Facebook, and wrote:
I can't wait to see this show at the Met! I ran away from home when I was 8… to the Egyptian wing… it's been my home way from home ever since. (Don't worry, it was only 1 block away from where we lived. Only one block to cross.)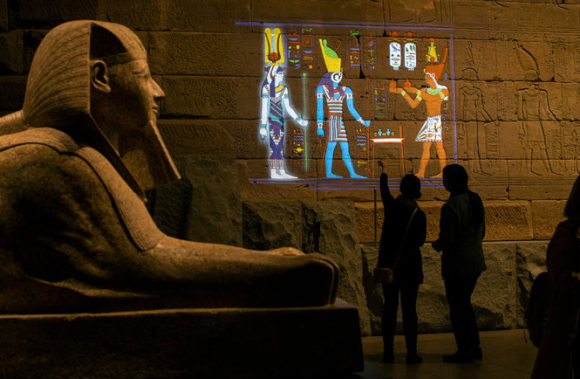 Temple of Dendur's Lost Colors Brought to Life at the Met
By JOSHUA BARONE
"As depicted in popular culture, ancient Egypt is awash with the color beige. A trip to the Metropolitan Museum of Art would seem to reflect that notion: The Temple of Dendur, with its weatherworn sandstone, could fit in naturally with the earth tones of "Aida" or "The Mummy."
But Egyptologists know that this temple, like many others of the ancient world, was painted with vivid colors and patterns. In "Color the Temple," a marriage of research and projection-mapping technology, visitors to the Met can now glimpse what the Temple of Dendur may have looked like in its original, polychromatic form more than 2,000 years ago.
The Met's MediaLab has installed a projector that fills in the temple's carvings with color. Through March 19, one section of the structure's south side is on view: a scene of the Roman emperor Augustus, dressed as a pharaoh and making an offering to the deities Hathor and Horus. Because the sun would wash out the projector's light (the gallery has floor-to-ceiling windows), the scene is illuminated on Friday and Saturday evenings, when the Met offers extended hours…"
For the rest, click here to go to the NYTimes.
Share