The best new vocabularly word we've learned in a while: "Crinolinemania" —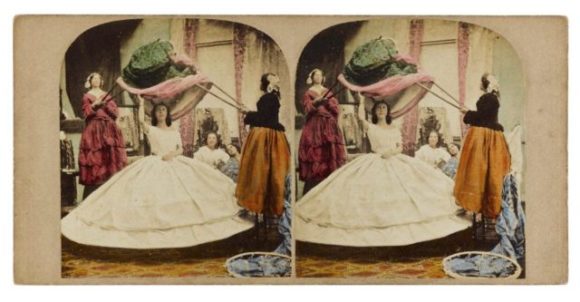 From The Vintage News,
Crinolinemania: The dangerous Victorian fashion garment that killed around 3,000 women
"The crinoline was perceived as a signifier of social identity, with a popular subject for cartoons being that of maids wearing crinolines like their mistresses, much to the higher-class ladies' disapproval.
Unlike the farthingales and panniers, the crinoline was worn by women of every social class; and the fashion swiftly became the subject of intense scrutiny in Western media.
The questions of servants in crinoline and the related social concerns were raised by George Routledge in an etiquette manual published in 1875, where he criticised London housemaids for wearing hoops at work.
As the girls knelt to scrub the doorsteps, Routledge described how their hoops rose to expose their lower bodies, inspiring street harassment from errand boys and other male passers-by.
Routledge firmly opined that servants ought to save their fashionable garments for their leisure periods, and dress appropriately for their work.
However, this was challenged by some servants who saw attempts to control their dress as equivalent to controlling their liberty, and refused to work for employers who tried to forbid crinolines…"
For the rest, click here.
Share