All that glitters…
From smithsonian.com,
Gold Rings Found in Warrior's Tomb Connect Two Ancient Greek Cultures
By Jason Daley
Analysis of four gold rings and some 2,000 other recently uncovered objects points to the exchange of ideas and goods between two ancient peoples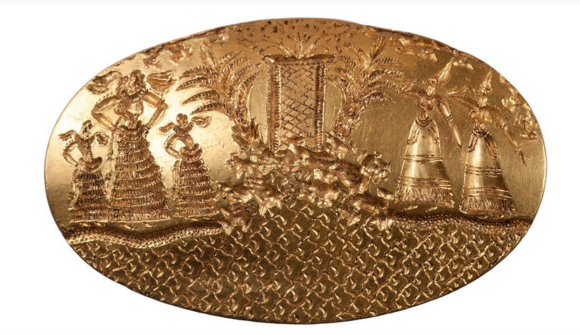 "The Minoan Civilization flourished on the Island of Crete from around 2600 B.C. to 1200 B.C., building the foundation for classical Greek culture. The ancient Greece of ancient Greece, if you will, the people developed religious concepts, art and architecture that would go on to influence the whole of Western civilization. But their reign was believed to fall when the Mycenaean civilization, which developed on the Peloponnese Peninsula (and gave rise to the heroes of The Iliad), plundered the Minoans and absorbed some aspects of their civilization into their own culture.
But the grave of a Mycenaean warrior uncovered last year in Pylos in the southwest of Greece may tell a different tale, reports Nicholas Wade at The New York Times. In May 2015, archaeologists Shari Stocker and Jack Davis from the University of Cincinnati uncovered the pristine warrior's grave near the Palace of Nestor in Pylos. The body was that of a warrior in his mid-30s who died around 1500 B.C., Rachel Richardson writes for UC Magazine. Buried with him were some 2,000 objects, including silver cups, beads made of precious stones, ivory combs, a sword and four intricately decorated solid gold rings…"
Read the rest here.
Share