The "eclipse crop circle" in Sutton Hall, Nr Rochford, Essex. Reported 17th August.
There are multiple theories so far on what this crop circle means. Some think it looks like a radio broadcast tower and were hoping that we would be receiving some sort of message around the eclipse…did a message arrive? Would we hear about it if it did?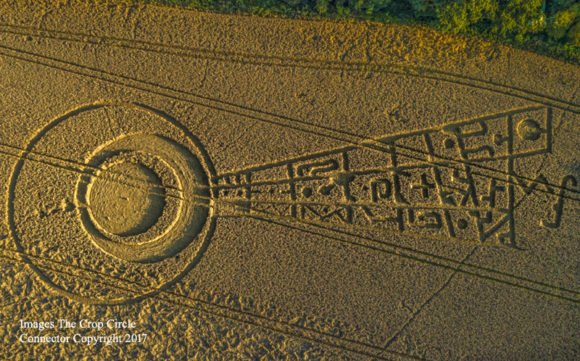 From collective-evolution.com,
Intriguing 'Eclipse Like' Crop Circle Shows Up In Essex. Reported Just Days Before Solar Eclipse
It's just days before an eclipse of a lifetime and as the world readies for the sight and some for the energetic shifts, a new crop circle has appeared in a field at Sutton Hall near London Southend Airport. The circle was discovered on August 17, 2017 but it's meaning, if any, is not yet fully understood. A crop circle with meaning you might ask? Yes, evidence has shown time and time again that many of these circles have incredible scientific anomalies and thus people believe the formations come from somewhere or something else.
On the scientific side, the electromagnetic field over the area where a circle appears is usually electrostatically charged. There is also a rare form of electromagnetic energy called an "ionized plasma vortex," also known as ball lighting, involved with these formations.
Let's have a closer look at this and imagine for a moment. In this particular formation, it appears the overall appearance resembles a "radio broadcast tower" with a "satellite dish" near the top. In this case, its "satellite dish" resembles the usual symbols for a "solar eclipse."…
For the rest, and more images, click here.
Share