We love her, but do we know her?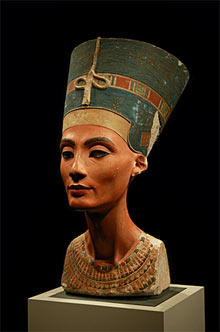 The Mysterious Disappearance of Nefertiti, Ruler of the Nile
by April Holloway (Ancient Origins)
"The Mysterious Disappearance of Nefertiti, Ruler of the Nile
Nefertiti was the chief consort of the Egyptian Pharaoh Akhenaten (formerly Amenhotep IV), who reigned from approximately 1353 to 1336 BC.  Known as the Ruler of the Nile and Daughter of Gods, Nefertiti acquired unprecedented power, and is believed to have held equal status to the pharaoh himself.  However, much controversy lingers about Nefertiti after the twelfth regal year of Akhenaten, when her name vanishes from the pages of history.
In Akhenaten's new state religion centred on the sun god, he and Nefertiti were depicted as the primeval first couple. Nefertiti was also known throughout Egypt for her beauty. She was said to be proud of her long, swan-like neck and invented her own makeup using the Galena plant. She also shares her name with a type of elongated gold bead, called nefer, that she was often portrayed as wearing.
Long forgotten to history, Nefertiti was made famous when her bust was discovered in the ruins of an artist's shop in Amarna in 1912, now in Berlin's Altes Museum. The bust is one of the most copied works of ancient Egypt…"
Read the rest here.
Share