What do Shakespeare, the Bowery gangs, and the train have in common?
From Atlas Obscura…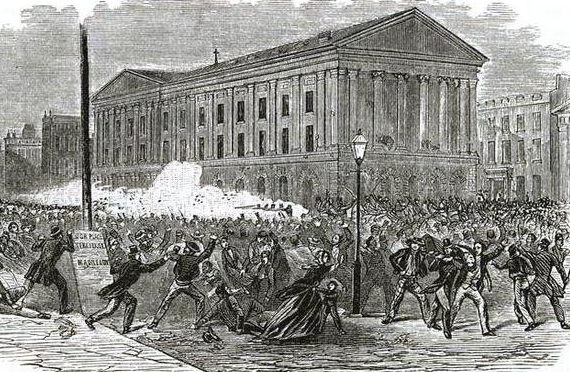 The Forgotten Entrance to Clinton Hall
Hidden in one of New York's oldest subway stations is the final remnant of the site of the bizarre Shakespeare Riots.
"This blocked up doorway on a subway station holds a secret that is still felt on the streets of New York today.
The Astor Place subway station on the IRT Lexington Avenue line is home to some of the most distinctive tile work on the New York metropolitan subway system. One of the original 28 subway stations, the walls are decorated with plaques depicting beavers, in honour of the pelt trade in which John Jacob Astor made his fortune.
But often overlooked on the south bound entrance is a bricked up doorway which recalls the tale of one of the most unusual events in New York history. Above the blocked off door is a lintel inscribed "Clinton Hall." At one point this led directly into the old New York Mercantile Library in the former Astor Place Opera House. The library, known as Clinton Hall, at 21 Astor Place, was created for the growing number of clerks in the city. With a membership of 12,000, the library held over 120,000 volumes, one of the largest periodical subscriptions in the city, cabinets of curiosities, and held lectures by such luminaries as Ralph Waldo Emerson, Frederick Douglass, and Mark Twain.
But the address, named after America's once-richest man, was the site of one of the most bizarre events in New York history…"
For the rest, click here.
Share