We're all thinking about the Presidency in America lately. Here's something of interest from the past that may distract us nicely regarding the present!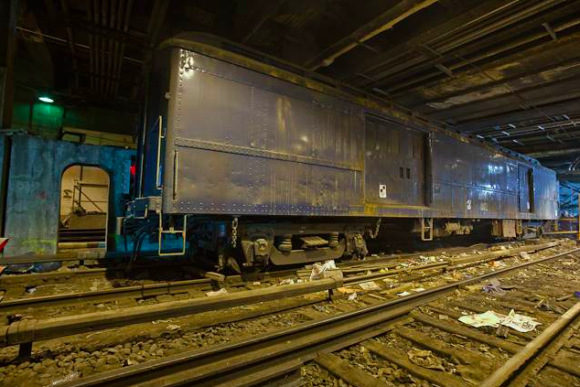 From Gothamist,
A Look Inside Track 61, The Secret Train Platform Under The Waldorf-Astoria
by Jen Carlson
"There are secrets under our feet, above our heads, and around every corner in New York City, many you may be passing by without even knowing it. Some of these special nooks are easier to access than others, and one time capsule that remains just out of reach is Track 61, which, at one end, is found behind a locked door on 49th Street.
This is the secret train platform that Franklin D. Roosevelt and other VIPs used to enter the Waldorf-Astoria (it was first used by General Pershing in 1938). It has been out of service for decades, but back in 2011 we visited the underground space, which still houses the tracks, the train car, and even the private elevator. In September of 1929, the NY Times reported on the new hotel's private railway siding underneath their building.
"Guests with private rail cars may have them routed directly to the hotel instead of to the Pennsylvania Station or the Grand Central Terminal, and may leave their cars at a special elevator which will take them directly to their suites or to the lobby. The arrangement is made possible because of the fact that the New York Central tracks pass directly beneath the block, which has been obtained by the Hotel Waldorf-Astoria Corporation from the New York Central Railroad on a sixty-three-year leasehold, the lease being in reality only for the "air rights" on the site."
According to Grand Central: How a Train Station Transformed America, FDR, who most famously used the secret entrance, did so "in part to hide his disability from the public." Everything was made so large that, according to the MTA's Dan Brucker, it could fit FDR's armor-plated Pierce Arrow car, which would drive off the train, onto the platform, and straight into the elevator…"
For the rest, and many photos and a video of the secret subway station, click here.
Share