A very sad story about a disposable work force, the ultimate sacrifice, and incredible corporate greed and hubris…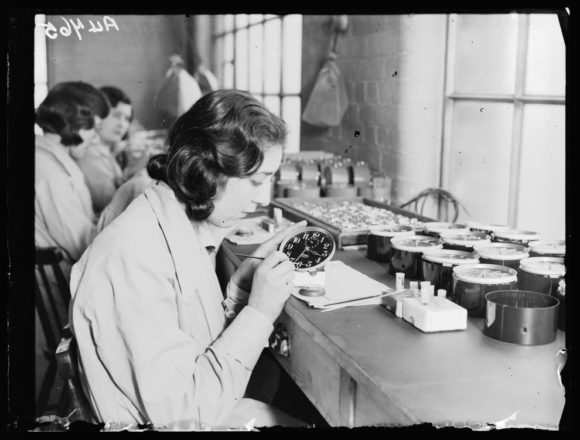 From Buzzfeed,
by Kate Moore
The Forgotten Story Of The Radium Girls, Whose Deaths Saved Thousands Of Workers' Lives
"During World War I, hundreds of young women went to work in clock factories, painting watch dials with luminous radium paint. But after the girls — who literally glowed in the dark after their shifts — began to experience gruesome side effects, they began a race-against-time fight for justice that would forever change US labor laws.
On April 10, 1917, an 18-year-old woman named Grace Fryer started work as a dial painter at the United States Radium Corporation (USRC) in Orange, New Jersey. It was four days after the US had joined World War I; with two soldier brothers, Grace wanted to do all she could to help the war effort. She had no idea that her new job would change her life — and workers' rights — forever.
The Ghost Girls
With war declared, hundreds of working-class women flocked to the studio where they were employed to paint watches and military dials with the new element radium, which had been discovered by Marie Curie a little less than 20 years before. Dial painting was "the elite job for the poor working girls"; it paid more than three times the average factory job, and those lucky enough to land a position ranked in the top 5% of female workers nationally, giving the women financial freedom in a time of burgeoning female empowerment. Many of them were teenagers, with small hands perfect for the artistic work, and they spread the message of their new job's appeal through their friend and family networks; often, whole sets of siblings worked alongside each other in the studio.
Radium's luminosity was part of its allure, and the dial painters soon became known as the "ghost girls" — because by the time they finished their shifts, they themselves would glow in the dark. They made the most of the perk, wearing their good dresses to the plant so they'd shine in the dance halls at night, and even painting radium onto their teeth for a smile that would knock their suitors dead…"
For the rest, click here.
Share