Never mind the cathedral, look at the rose….
From The Vintage News,
The Rose of Hildesheim: A thousand-year rose that's believed to be the oldest living rose in the world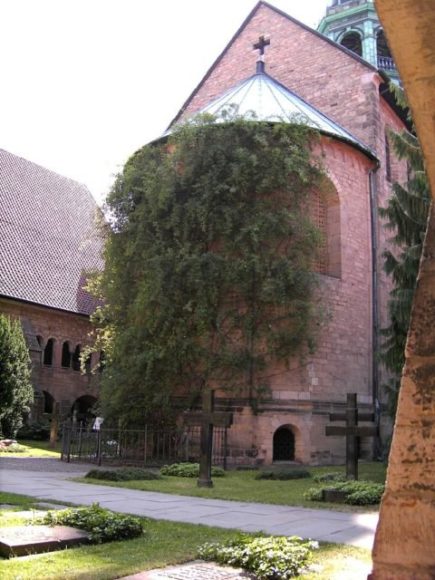 "The beautiful German city of Hildesheim is the home of the oldest living rose on the planet known as the rose of Hildesheim or the thousand-year rose.
She's 69 feet tall and 30 feet wide and it's believed that she was established by King Louis the Pious back in 815.
The rose climbs up the walls of a Catholic cathedral dedicated to the Assumption of Mary. The cathedral was hit by  Allied bombers during World War 2, and although the building was completely destroyed, the roots of the rosebush somehow survived and she blossomed among the ruins again.
The cathedral was rebuilt in the 1950s and 1960s in a simplified form and without its previous baroque elements that gave the building its Romanesque charm. After many years, on August 24, 2015, its renovation became a subject of the largest construction project in Germany in order to bring back the building's old charm.
However, tourists visit the cathedral not only to see the building's new look but also to admire the thousand-year rose that has become its most remarkable feature…"
For the rest, click here.
Share