…a small piano bar in Manhattan is the only place open to the public to see Bemelmans' work.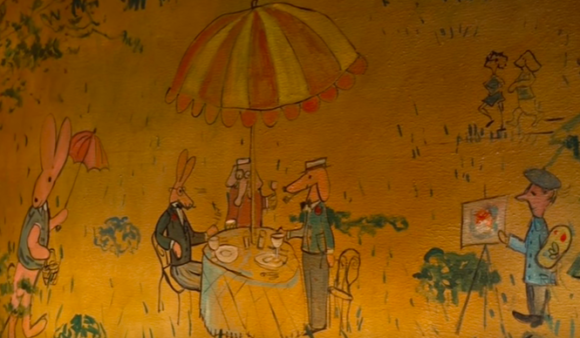 From Atlas Obscura,
Bemelmans Bar
The walls are decorated with whimsical murals painted by the creator of the Madeline franchise.
In a bar in Manhattan that is covered in art, lives the last public place Ludwig Bemelmans' whimsy plays a big part.
"The story of the feisty literary heroine Madeline begins in Paris, but the girl with the red hair and big yellow hat travels all around the world in the books written and illustrated by Ludwig Bemelmans. Much like his most famous character, Bemelmans' life began in Europe, in the Austrian Tirol, but he emigrated to the United States when he was nearly 20 years old. After working in the hotel industry and serving in the army, he began writing and illustrating books for children. He found huge success with his Madeline series, the first book of which came out in 1939.
He went on to write five books about the spunky seven-year-old and her adventures, and also produced popular artwork for publications like The New Yorker and Vogue. In the 1940s, Bemelmans took on a commission that combined two of his passions: hotels and painting. He was contracted to decorate the new bar that was built in The Carlyle, a luxury hotel in Manhattan's Upper East Side.
For this, he was paid not in cash, but received free board for himself and his family for a year and a half, the duration it took for the wall murals to be completed…"
For the rest, click here.
Share