It seems like the world is going to hell in a hand basket — but at least some forward thinking folk near the north pole are making sure the Earth's crop diversity is protected in a doomsday vault under the ice.
Alexander Rose, the Executive Director of The Long Now Foundation, shares his experience touring the vault (he goes further in than even Jimmy Carter was allowed to go…)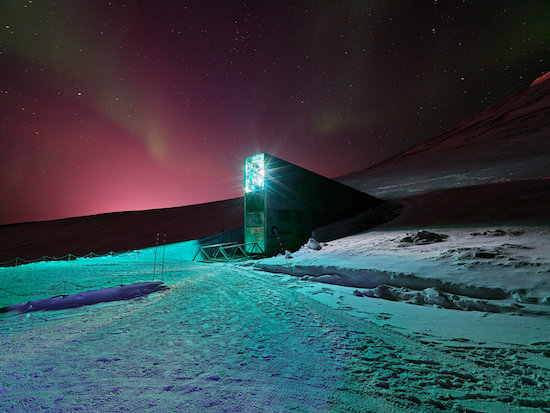 From The Blog of the Long Now,
Inside Svalbard, the Doomsday Vault Saving the Past and Future of Agriculture
The Svalbard Global Seed Vault is an underground repository located at 78 degrees North latitude that currently stores nearly a million seed samples to preserve crop diversity for the future. Many see the vault as a resource for a "doomsday" scenario brought on by severe climate change or other ecological disaster. Long Now has been following the Svalbard vault closely since it was first announced over a decade ago. In 02011, Long Now Executive Director Alexander Rose had the opportunity to visit Svalbard with unprecedented access to the vault through a partnership with the Center for Land Use Interpretation (CLUI).
Rose's account of the trip follows below, and includes an update on the recent surge in public interest surrounding Svalbard over the past year.
Video below —

For the entire story, click here.
Share