We love our ancient Egyptians here at the Museum of Mysteries. Enjoy this!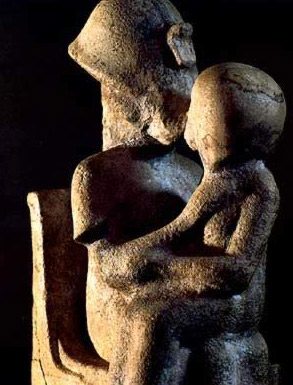 From Tour Egypt,
Childbirth and Children in Ancient Egypt
By Marie Parsons
"Children were considered a blessing in ancient Egypt. Sons and daughters took care of their parents in their old age. They were often called "the staff of old age," that is, one upon whom the elderly parents could depend upon for support and care. The scribe Ani instructed that children repay the devotion of Egyptian mothers:
"Repay your mother for all her care. Give her as much bread as she needs, and carry her as she carried you, for you were a heavy burden to her. When you were finally born, she still carried you on her neck and for three years she suckled you and kept you clean."
It was also expected that the older son or child carry on the funerary provisioning of the parents after their death. Children had value in ancient Egypt. The Greeks, who were accustomed to leaving infants exposed to the elements, were stunned to observe that every baby born to Egyptian families were cared for and raised. This care was not easy. Many children died to infection and disease. There was a high rate of infant mortality, one death out of two or three births, but the number of children born to a family on average were four to six, some even having ten to fifteen.
The Kahun, Berlin and Carlsberg papyri contain an extraordinary series of tests for fertility, pregnancy and to determine the sex of the unborn child. These tests cover a wide range of procedures, including the induction of vomiting and examination of the eyes. Perhaps the most famous test says: to see if a woman will or will not bear a child. Emmer and barley, the lady should moisten with her urine every day, like dates and like sand in two bags. If they all grow, she will bear a child. If the barley grows it will be a male, if the emmer grows it will be a female, if neither grow she will not bear a child.
This technique was tested in the late 20th century, and it showed no growth of either seed when watered with male or non-pregnant female urine. With forty specimens from pregnant women, there was growth of one or both species in more than 50% of the cases. While this seemed a good indicator of pregnancy, no growth failed to exclude pregnancy in 30% of the cases. When only one species germinated, the prediction of gender was correct in seven cases, and incorrect in sixteen cases…"
For the rest, click here.
Share