The conservation process is amazing to watch.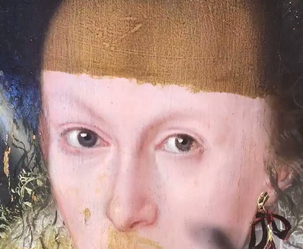 From Atlas Obscura,
Watch a Jacobean Painting Emerge From 200 Years of Grime in Seconds
A mysterious 1618 lady, revealed.
by Natasha Frost
"Two hundred years ago, someone—an aspiring art conservator, perhaps—took a brush and coated a 1618 oil painting of a lady in red with a thick coat of ostensibly protective varnish. Over the decades, the varnish naturally discolored, turning first yellow and then brown, until the whole painting appeared covered in grime. Now—in a flourish—those two centuries of discoloration are gone.
Philip Mould is an art dealer and presenter on the popular BBC art program Fake or Fortune. He bought this painting at auction and posted videos of the dramatic conservation process as it happened. In the videos, Mould applies a substance—a gel-solvent mixture—to the surface of the painting, works it in, and then wipes it back to reveal the painting in its near-original glory…"
Click here for the rest as well as the videos of this in action!
Share