A storm reveals evidence of an illegal deed and immense cruelty…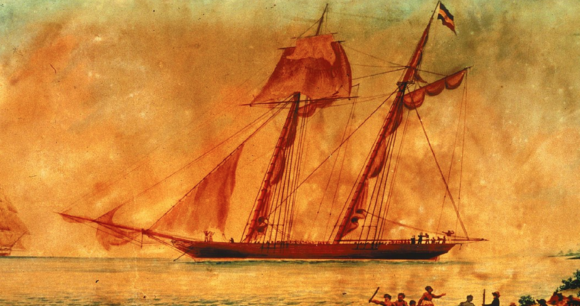 From The Washington Post,
The last U.S. slave ship was burned to hide its horrors. A storm may have unearthed it.
By Cleve R. Wootson Jr.
"In the summer of 1860, half a century after the United States banned the trans-Atlantic slave trade, Capt. William Foster sneaked 110 African slaves into Mobile, Ala. — and knew that the floating evidence of the illegal deed could get him killed.
The trip was more part of an obscene bet than any sort of profit-making scheme, but the Clotilda, the ship that made the months-long journey, held the telltale signs that it was an illegal slaver: containers for water and food, and the lingering stench of urine and feces and vomit and blood.
If caught, Foster and his crew could be imprisoned or executed, so they found a remote section of the Mobile-Tensaw Delta and torched the ship, igniting a mystery that would endure for a century and a half.
What happened to the Clotilda, the last ship to bring slaves to the United States?…"
For the rest, and a video, click here.
Share