This kind of restoration may be a bit of a novelty, but we love it…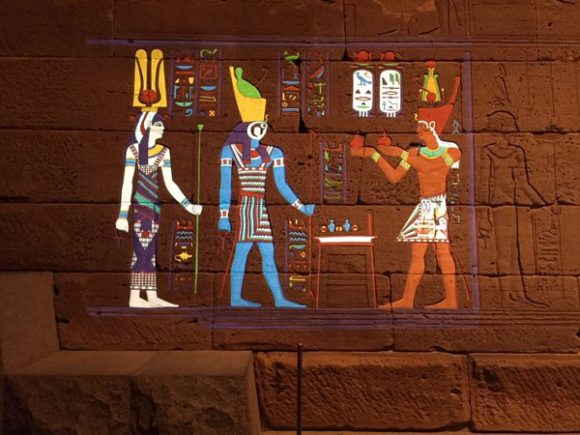 From Open Culture,
The Met Digitally Restores the Colors of an Ancient Egyptian Temple, Using Projection Mapping Technology
"Thanks to the tireless efforts of archaeologists, we have a pretty clear idea of what much of the ancient world looked like, at least as far as the clothes people wore and the structures in and around which they spent their days. But we seldom imagine these lives among the ruins-before-they-became-ruins in color, despite having read in the history books that some ancient builders and artists created a colorful world indeed, especially when a special architectural occasion like an Egyptian temple called for it.
"As depicted in popular culture, ancient Egypt is awash with the color beige," writes the New York Times' Joshua Barone. "A trip to the Metropolitan Museum of Art would seem to reflect that notion: The Temple of Dendur, with its weatherworn sandstone, could fit in naturally with the earth tones of Aida or The Mummy.
But Egyptologists know that this temple, like many others of the ancient world, was painted with vivid colors and patterns. In 'Color the Temple,' a marriage of research and projection-mapping technology, visitors to the Met can now glimpse what the Temple of Dendur may have looked like in its original, polychromatic form more than 2,000 years ago."…
For the rest and some amazing videos, click here.
Share